Lectures and Classes
Kelly Gallagher-Abbott from Jukebox Quilts wants to share her enthusiasm with quilters of all skill levels through our specially designed lectures and sewing classes. Please contact us if you would like to schedule Kelly for any of these services at your location or event. (970) 224-9975. If you have already spoken to us and would like to complete a contract, click on the link below.

2020 Speaker/Lecture Contract for Kelly Gallagher-Abbott


About Kelly
Although I was educated in the science and art of nursing and worked as a high-risk labor and delivery nurse, I have always been very interested in textiles and art.
I began quilting in 1988, and shortly after that began both my family and Jukebox Quilts.
Jukebox/Galloping Rabbit, Inc. publishes books, cards, and patterns for the quilt market, as well as carries other supplies for quilters.

We specialize in humorous and whimsical quilting designs and represent many other fiber artists.

I've designed a fabric line, many patterns for quilts, digitized quilting and embroidery motifs, and have written several books.

I was a hand model and "stunt quilter" in the movie How To Make An American Quilt, have been on Home and Garden Network's Simply Quilts three times and Alene's Creative Living.

I've created quilts used in television advertisements, books, and many magazines.

I travel to lecture, judge, and teach internationally on crazy quilting, painting on quilts, and use of other pigments, quilting, and several other fiber art topics.

In 2003, I took over as the curator of the Hoffman Challenge, a job I loved, as it provided me with a wonderful opportunity to use the many skills I'd acquired over the last several years, as well as the chance to interact with the approximately 600-800 competitors and hundreds of exhibitors, guilds, and shops who displayed this impressive and creative collection of quilts, garments, dolls, and accessories.

Shortly after retiring as the curator for Hoffman Challenge at the end of 2009, I was asked to curate a challenge and traveling display for the US Naval Aviation Foundation to celebrate 100 years of Naval Aviation.

This display was shown at air shows, military and aviation museums, and other events throughout 2011.

After that,

I was a co-curator (with Patt Blair) of an exhibit of Route 66 quilts that is traveling for three years. These quilts are still shown at http://route66quilts.blogspot.com/

In 2010, my husband and I became the longarm dealers for a five state area. We carry Innova Longarms and Juki sewing machines.

I have two great passions (besides that for my family):

I can't wait to quilt every day, and I absolutely adore teaching others about quilting.

I promise that your group will find my enthusiasm contagious, and that quilters of any skill level will be inspired, will learn great techniques and will enjoy my sewing/quilting programs and classes.
Lectures
Trunk Show
This casual lecture and trunk show share Kelly's journey as a quilt maker.
Several antique quilts will be shown, as well as many made by Kelly.
A huge variety of inspirations and innovative techniques will be discussed, including embroidery embellishment and use of dyes and pigments.
This lecture shows Kelly's sense of humor, whimsy, and chronic condition of asking "what if…?" and will offer something for every quilter, regardless of her (or his) level of experience.
Quilt groups have raved about this lecture, and your members will be inspired and encouraged, in addition to being entertained!Approximately one hour.
Lectures given in areas where Kelly is unable to drive will be more Power Point based, as transportation of numerous quilts is difficult.
It's All About the Quilting!
Great quilts are achieved when every step of the quiltmaking process is designed and executed in a cohesive fashion. So many quilts are wonderfully constructed to the point of a finished quilt top, but then things begin to go "wrong" as unrelated quilting is chosen to hold the three layers together.We'll discuss a wide variety of quilts and talk about how to effectively choose, design, and complete the best quilting (or how to communicate your desires to your longarm quilter). Kelly will talk a lot about the judging process, and what judges consider essential in award winning quilts in terms of the quilting. This presentation will be a combination of slides and trunk show (when possible).Bring a notebook and pencil! Guild members are also encouraged to bring quilts and quilt tops to show, inspire others, or to ask questions about planning the right quilting.Part of the presentation will include information about batting, threads, and other supplies and techniques, but primarily this talk will be about how to fill space and to end up with a quilt that you'll be thrilled with!
Approximately one hour, slide presentation and brief trunk show.
The Cutting Edge
This lecture on the newest techniques, tools, gadgets and tricks.
Jukebox is known for being on the cutting edge (sometimes over the edge!).
Designers with Jukebox include many international award-winning quilters who are using innovative techniques.
This presentation will show many of these techniques (including one Kelly says is the biggest thing to hit quilting since the rotary cutter), tools, gadgets and tricks. The talk is rich with information about what judges are looking for, and how to correct the most commonly seen areas of weakness.
Kelly creates and/or quilts an average of 40-50 quilts a year, so has refined many time saving methods.
This jammed-packed presentation will leave everyone in your quilt guild raring to get home and get going.
Even the most experienced quilters will smack their foreheads when they learn new hints that are guaranteed to save time and increase accuracy and success.
Approximately one hour, slide presentation and brief trunk show.









Victorian Crazy Quilts
This presentation which explains the history of the Victorian age and the crazy quilts that reflected the times is combined, when possible, with a trunk showing of antique and award winning crazy quilts by award winning quilter and author Christine Dabbs.
Textile manufacturing, philosophies of the age, Stump Work, and Victorian symbolism are presented, as well as instructions for the making of a crazy quilt.
This fine art is being revived and renewed in popularity as quilt makers master traditional cotton techniques and begin to look toward new challenges and surface treatments. This lecture introduces quilters to this process, and may contribute to a whole new addiction!
Approximately one hour, slide presentation and brief trunk show.
Workshops


All workshops are taught with the intent of providing the "basics" and encouraging individual creativity. These workshops focus on teaching you how to achieve your own goals/vision. not how to make a "version" of my vision. The main objective is to provide knowledge, inspiration, and tools that can apply to many other quilt projects. Class samples and materials lists can be viewed on the website,
and will be provided electronically upon your request.
Crazy Quilting Workshops

The Crazy Quilt workshops briefly discuss the history of the crazy quilt and show all techniques from design, to piecing and finishing. A trunk show of Christine Dabb's award winning crazy quilts (when possible, otherwise Power Point images will be used) will provide endless additional ideas. These workshops are packed with tips that are easily applied to other projects. Seam covering is extensively reviewed, and a foolproof super simple method for perfect stitches is taught.

One Day Crazy Quilt Workshop Attendees can choose to work on stitch sampler or a project of their own. Fabric selection, foundation piecing, seam coverings, spider webs, beading and finishing are all presented. Kits can be provided if prearranged for an additional fee.

Two Day Crazy Quilt Workshop Choose a mini crazy quilted postcard, or work on a project of your choice. All techniques above are included, and we will explore more about construction of a crazy quilt in greater depth, especially perfecting seam coverings.
Victorian Garden Sampler
Make this wonderful small sampler while learning the basics of
hand embroidery.
These "Critters" can be added to any project.
We'll cover stem stitch, couching, silk ribbon embroidery, beading, hand appliqué, and other methods and techniques, and you'll nearly finish this small piece.6 Hour Workshop, kits available for an additional fee.
Just the Basics:
Creating Perfect Seam Coverings the Easy Way!
This process-based class teaches the basics of perfect crazy quilt stitches using nifty tools Kelly designed.
The stitches can be used as seam coverings, borders and bindings, or in pictorial embroidery.
Students will work on a sampler.3.5 Hour Workshop, kits can be provided if prearranged for an additional fee.
Longarm Quilting
Kelly has owned, operated, and taught longarm quilting for ten years, and can provide one on one or group instruction on everything from Pantographs, to free motion feathers, wholecloth, and now computerized quilting and design using robotic machines.
AutoSketch, ArtnStitch, Illustrator and Mach 3/Autopilot classes are also available - Illustrator, AutoSketch and Art andStitch can be taught remotely using WebEx.
We also teach maintenance.
Class is available at our store in Fort Collins, CO, or Kelly can teach on other longarms at conferences or your own location.
Time customized to your requirements.
Call for pricing.
Studio Visit
Would you like to bring a group of friends over for a trunk show and afternoon at Kelly's store?
We can handle groups up to 20 and can customize a lecture, class, let everyone play on the longarm machine, or work on your own projects!
Call for more information, pricing, and scheduling.
Other groups have really enjoyed this little get-away, and we love having you visit!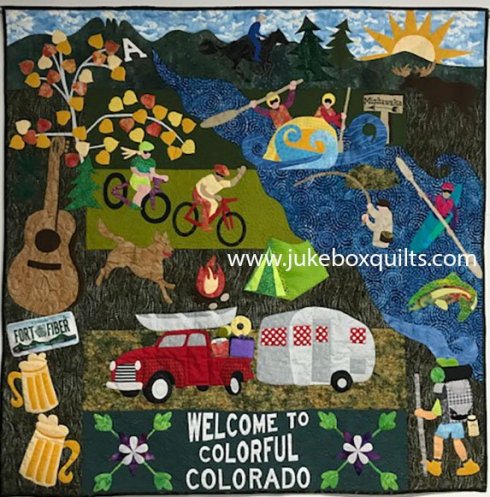 Jukebox Rose
Kelly made this quilt for a Simply Quilts challenge using 103 provided fabrics.
It's stunning in any colors, and you'll learn the simplest method of curved piecing ever!
We'll also go over machine and hand appliqué techniques, and about a zillion other hints and secrets (the block used has 16 seams intersecting in the center, and Kelly guarantees all seams will meet perfectly!
One day workshop.
Perfecting your Piecing
This workshop will review how to improve your piecing so your quilt blocks turn out perfect - and perfectly sized.
Learn basic piecing, inset piecing, curves, machine inserted circles, and other tricks to ramp up your piecing game.
We'll complete several blocks that demonstrate every technique you'll ever need.
6 Hour Workshop, laser cut kits available for an additional fee.
Jig Swatches Puzzle

Looking for a fast and easy quilt? Whip out this adorable puzzle quilt. This is a great way to use up fat quarters or other large fabric scraps, and incorporating fun conversation prints makes it even more special. Pre-cutting will enable you to make major progress on this quilt during the class, possibly finishing the top!
Time: One day workshop.























Funky Checkers

Tired of all that tedious measuring, templates, and precision of quilt-making? Cut loose on this really fun and spontaneous free-form quilt. This quilt was made for a television commercial, and what started as a small quilt top quickly turned into a twin-sized finished quilt (due to the fickle director's changing ideas) that was made in four days (thanks to the production schedule). The deal is, though, that this quilt (and quilting clasS) is super fast and easy — and enjoyable to boot! With some minimal preparation prior to class, most students will leave with a finished wall hanging top.
Time: One day workshop
Terribly Terrific Techniques

Learn some very fun quilting techniques in this class. We'll create machine-pieced circles and curves that couldn't be easier, faster, or more precise (without pins!), prepare appliqué that is done by machine-but has turned edges and is indistinguishable from hand needle-turned appliqué, and review methods for perfect miters and bindings that will impress any judge that are so simple, your jaw will drop in amazement and your mind will spin with the possibilities!
You will receive a number of patterns to choose from or can purchase any of our appropriate patterns (like the Heartstrings pattern below) to practice these quilting techniques. Some samples are shown here.
Time: One or two day workshop.
Oodles of Doodles

This can be a class using machines to quilt, a drawing class, or a combination of both! Simple drawing exercises and basic explanations of how to travel around for continuous line quilting will provide you with free motion potions for interesting and effective quilting. These concepts work for domestic, mid, or long arm quilting. You'll develop a notebook with great step by step illustrations that you can combine for endless varieties of quilt designs. Forget the boring stipple!
We'll also review battings, marking tools, threads, etc. to help you create the perfect quilting machine patterns for your projects.
Time: One or two day workshop. With or without quilting machines.