Skip Navigation
Website Accessibility

7 Things to Look For When Buying a Longarm Quilting Machine

So… you are thinking of buying a longarm quilting machine, now what? How do you decide among dozens of companies and their scores of offerings?
In our experience, not only as quilters but also as quilt judges, we have a list of 7 Things we always look for when considering a machine. Consider this a checklist as you look at machines and decide which is best for you.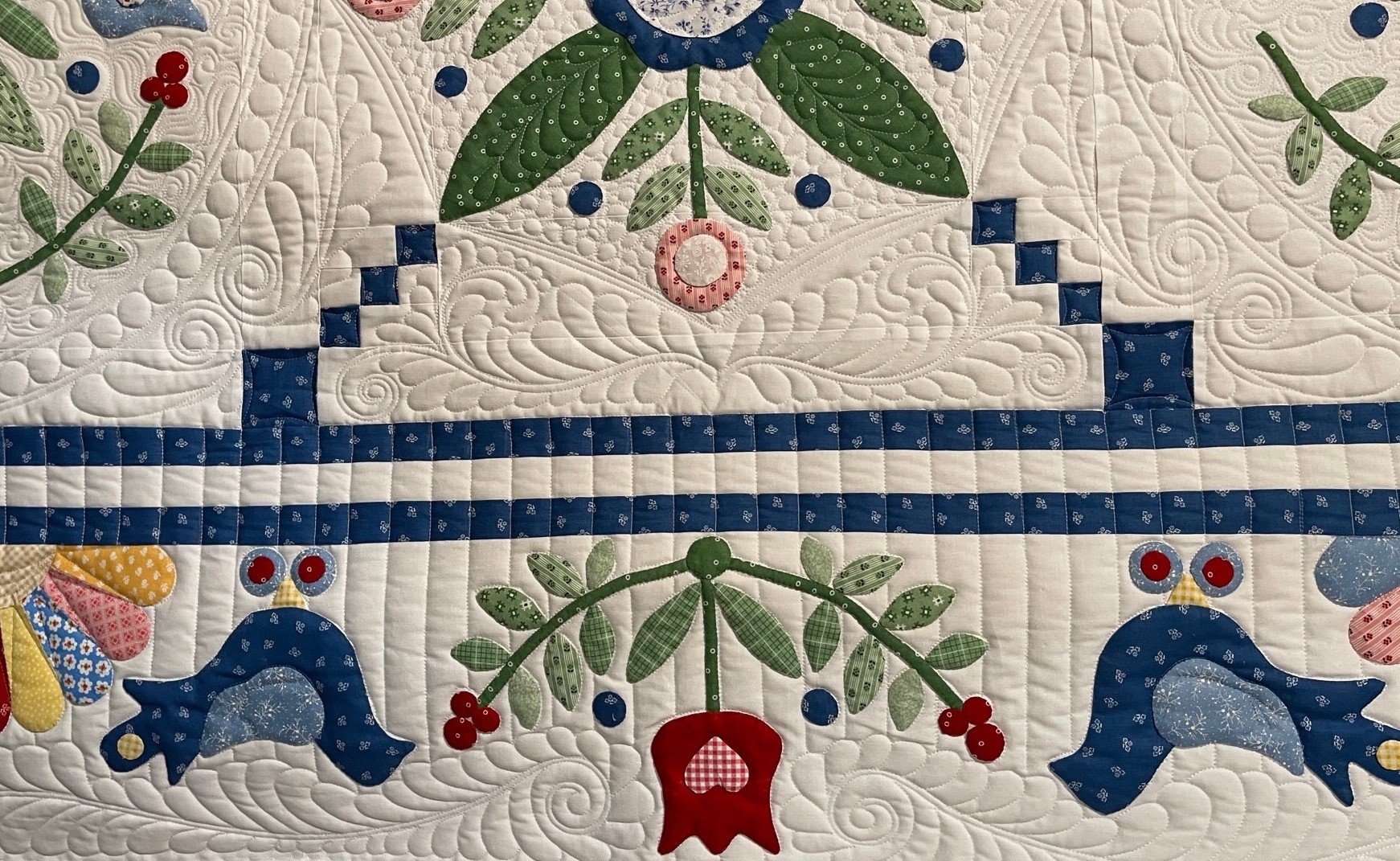 1. Stitch Quality
The LAST thing you want is to bring a machine home only to find you have uneven, inconsistent stitches or poor tension. Here we recommend test driving any machine you are considering. Run the machine with various stitch lengths and test your stitches in various directions. Do your stitches look consistent on the top and bottom of the quilt, both in stitch length and stitch quality in all directions of sewing?
Don't forget to test the machine in straight lines (left to right, right to left & straight back and forward). This lets you check that the needle bar is set to the right height and that it's timed properly. If it isn't, you'll see skipped stitches on the front or back, or thread breaks/fraying.
Also do test out some loops. Loops are very common in many edge-to-edge patterns and you'll want to make sure the stitches look consistent (again – on both the top AND bottom!). We also like to stitch into and out of points as we test machines: this enables us to check that the stitch regulation can maintain a decent stitch length at the point. Some machines do a longer stitch at the point that may not appeal to you.
==================================================================================================
2. Machine Movement
Run the machine doing various patterns featuring things like loops and feathers. Does it roll smoothly or does it feel jerky?
Speed up and slow down while doing free-motion work, can the machine stitch regulation keep up with your movements or are you seeing stitch length variations or stitch quality issues? The motors on some machines can be easily outrun by the quilter when in regulation mode leaving you with some undesirable results.





==================================================================================================
3. Comfort
Is the table adjustable to a comfortable height or is the table height fixed? Can the machine's handles be adjusted? Think about whether you could stand and quilt for several hours and how you would feel… ready for more or would you be fatigued? A quilt machine should bring joy, not aches!
Some other things to consider here: Does the machine vibrate a lot? How noisy is it? Is it something you can tolerate well?
==================================================================================================
4. Loading
Ask to load a quilt sandwich to see how that process works for the machine. Does it seem quick and easy or does the loading feel cumbersome? Are the bars sturdy, or do they bend when the quilt is tightened?
With our Innova longarm machines, we have the option to load and secure only the backing fabric and float the top and batting and then baste. This makes for an easy loading process that virtually eliminates buckling on the back. (Learn more about the Jukebox float here.)
Also take a look at the basting process here: does the machine have a specific basting stitch mode or do you have to manually take a single stitch for each basting stitch? (Take our word for it, manual basting is not only tedious but can be a real pain.)
An additional consideration: Does the table have leaders with zippers? We like the zippered leaders on our Innova machines because they are such a time saver if you need to swap out a quilt. This is a particular consideration if you are considering using your longarm machine to build a quilting business… there are customers who are in a hurry and you may have to bump one quilt to put another on your machine. Zippered leaders make this process super easy.
==================================================================================================
5. Other Features
Does the machine have adequate lighting over the needle area? Can you easily see the needle or is it obstructed by the handles or lights? You want to be able to access your needle easily in the event of re-threading, changing out the needle or making sure your needle is in straight, so don't overlook this!
Does the machine come with different hopping feet? We find the ruler foot and cup foot to be essential tools. The ruler foot allow us to work with rulers while using an extended base for ruler work. The cup foot is ideal when working with applique, t-shirt quilts, or any other thick or lumpy fabrics dimensional elements like flanges as it allows for quilting without catches the edges or lumps. Is it easy to change out the hopping foot if needed?
Does your machine come with a stand-alone bobbin winder? If not, we recommend purchasing one. They run faster than the ones built into most machines, allowing you to get back to what you enjoy most… quilting!
==================================================================================================
6. Maintenance
Make sure you know the age and model of the machine you are purchasing. This is critical if you ever need to order parts or require a repair.
Does the machine require oil? If so, where do you oil it? Do you risk getting any machine oil on your quilt?
Before you leave with your machine, find out how you change the needle. You will want to change your needle for every 8-10 hours your machine runs, so making sure you know how to do this is VERY important. What size needle does it use?
Does your machine use high capacity M size bobbins? This may seem like a little thing, but these high capacity bobbins allow for longer quilting times. More quilting, less winding is particularly important if you are quilting for others as it allows you to complete quilts faster and generate more income for your home-based business.
==================================================================================================
7. Dealer Reputation
These might be the most important considerations of them all: Does the person selling you your machine (or the company they represent) have a good reputation and stand behind their machine? Do they actually use the machine brand on a daily basis? If your machine requires maintenance or parts, do they insist on putting them in for you or will they assist you in getting back up and running by phone? If the brand insists on their dealers installing parts, what are the travel and service fees?
We have seen many customers come to us after having a bad experience elsewhere. We find it is critical to purchase from a trusted dealer that will provide you with both service AND support. Along these lines, if you can't reach your dealer every day of the week, can you reach the manufacturer? We pick up calls seven days a week, but in the rare instance where we might be out of phone range, Innova provides 24/7 phone support and will stay on the phone with you until you are back up and running (unless you need a part shipped for your repair).
Finally, clarify what training you will be provided. We promise unlimited training for our customers. Ideally, we like you to come in and train on your machine. We'll set it up, have you work on it until you're feeling confident and ready for delivery, then will bring it to you and set it up in your location. After that, we're a phone call away (and can dial in to demonstrate things on your computer if you buy the robotic system) or you can come in for additional one on one training whenever you wish, for as long as you own the machine.
Jukebox Quilts is an Innova longarm dealer based in Fort Collins, CO. We proudly stand behind our product and provide support for as long as you own your Innova machine.